Italy: the land of good food
Italy, the land of lasagna and good wine, of extra virgin olive oil and tiramisu: from time immemorial Italy is famous for its delicious cooking and its wholesome products. Everyone is familiar with lasagna, pasta, parmesan cheese, raw ham ... but not everybody is familiar with Italian regional specialties such as frisella and pasticciotto from Salento, the taggiasca olives from Liguria, the confetti from Sulmona, the the Vastedda cheese from Palermo, the Pampepato and the venison salami from Umbria. Regional typical delicacies are less known abroad but they also are the most succulent and valued gastronomical products in Italy and they represent the true sould of Italian cuisine.  
Make Italy cherishes Italian traditional and typical specialties and cares about maintaining the social and cultural identity of every single product.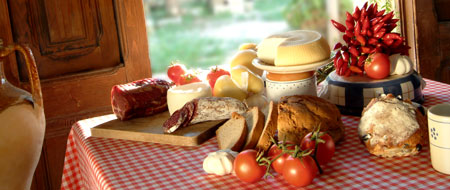 For example, Primitivo di Manduria red wine cannot be fully appreciated if it is separated from its origins and loosely put on the international market. The sweet, tasty, black grapes of Primitivo di Manduria, that reached Puglia thanks to the Illirians more than two thousand years ago, are harvested by the skillfull hands of the farmers of Puglia. That grapes give birth to a sweet, strong red wine that perfectly complements savoury dishes such as cold cuts, pork meat, spicy cheese like the Pecorino from Salento, first courses with meat sauce and fresh homemade pasta like the traditional orecchiette. It is not just "an Italian red wine", isn't it? This is Make Italy's search and selection; this is the way we guarantee only top quality products for our customers, travelling throughout Italy from coast to coast, starting from our homeland: Puglia. 
• Sauces and Preserves • Jams • Biscuits and Confectioneries • Bakery Products • Oil  • Olives • Wines • Liqueurs • Pasta • Horeca • Basic